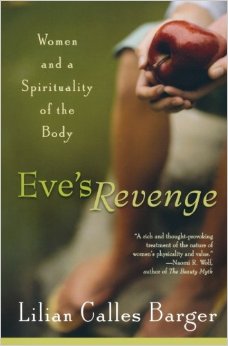 In her book Eve's Revenge: Women and a Spirituality of the Body, Lilian Calles Barger shares some of the ways modern women are deeply troubled by the fact of their embodiment. She shows how the quest for a disembodied spirituality has left women strangers to their own bodies.
Influenced by feminism, women have been subtlety encouraged to see their body as a barrier to true fulfillment. A woman's body, once a source of pride, is now often seen as a curse, a barrier to true liberation as we seek to construct identities independent from the fixities of material creation.
Barger illustrated this in a fascinating section of her book where she describes a conversation she had at a Midwest feminist conference. Barger attended some fascinating panel discussions about gender, sexuality, and feminine identity. Afterwards, Barger had the opportunity to have coffee with a young lesbian, who had "come out" at fourteen. Barger reflects,
"It was a pretty heavy conversation, I must admit. But the simplest question was the one that seemed to confound us the most. What I asked, and am still asking, was 'Do our physical actually existing bodies matter in all this?'
…in our search for meaning and a more authentic identity, our bodies have become obstacles to be overcome. But as we seek transcendence, can we radically sever who we are from the body? It appeared that in the panel discussion about gender identity and sexual orientation, sex itself was wholly disembodied. No references to the body were made except as an appendage to the discussion. There was no questioning whether our sexed bodies provide any information regarding the nature of our sexual identity.
I asked the young lesbian whether she had ever considered her body as informing her identity. I wondered whether it said anything about her and how she was to live. She was ready to affirm that her race was important in informing her identity, but she hadn't thought about her sexed body in quite the same way. She wasn't sure she wanted to go there.
Like most people, I have trouble thinking about the body without thinking about the mess of it. It is a complex set of needs, yearnings, and assumptions, overlapping in physical and cultural space, that continually limit our possibilities. In our attempts to transcend our social situation, we do not want our body to define the content of our life whether by race, age, sex, or disability. But to talk about sexual orientation and desire without talking about the bodily field in which they are expressed is to engage in dualistic thinking that will forever keep us from having a coherent understanding of ourselves. As unfashionable as it may be, the reality is the my body informs me every day not only about my place in the world but about what is needful for my life to flourish. How we view the body and our own body ends up directly affecting what type of spirituality we will embrace and how we see our relationship to the Divine. The current formulation of how the body, specifically a woman's body, is related to spirituality has set us up for disembodied spirituality."
In fairness, the type of feminism described above is only one type, yet it is gaining traction and is a powerful influence on young women. At best, it teaches them that the body is irrelevant to personal identity; at worst, it teaches that the body is an enemy to true fulfilment that must be overcome.
To read more about my thoughts on this, visit my Colson Center article 'Liberated From Embodiment.'