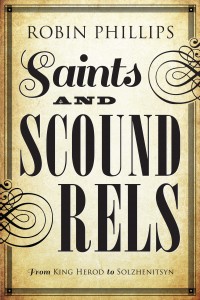 Saints and Scoundrels presents the complete stories of twenty heroes and villains from the birth of Christ to the fall of the USSR. Cheer as Wilberforce and Solzhenitsyn defeat political goliaths, wince as Prince John schemes and Joseph Smith prophesies, mourn as William of Orange is shotgunned by an assassin and Perpetua, a young mother, is martyred in the arena.
The desires and beliefs that drove these characters still drive men today: we learn how Rousseau's Romanticism was connected to totalitarianism, how Dorothy Sayers and George MacDonald s thoughts on story and the Trinity affected their readers, and how Antonio Gramsci and the Frankfurt movement infiltrated America, with ramifications to the present day.
At the end of each chapter are discussion questions relating the chapter's themes to larger issues (whether biblical, philosophical, or cultural), and a personal challenge applying the lessons from these lives to the reader and current society. The book also contains a glossary of bolded terms for quick reference, and a bibliography for further study–all the tools needed to bring the clash of history into the home or classroom.
But Saints and Scoundrels on Amazon today!
What Readers are Saying About Saints and Scoundrels
Joe Brodnicki on Amazon reviews:
"I don't give out five stars for much of anything anymore, but the book succeeds in presenting a Christian-oriented view of western civilization while introducing us to some delightful people along the way (the chapter on Bach sheds new light on his artistic genius—there are others as well).

The author writes clearly and provides a bibliography for anything that might seem jargony. The style is not one-dimensional, didactic evangelical—it's quite thoughtful and learned.

Along with giving the biographies of saints you may not know about (who are truly worth reading about), you'll get some snippets of the best and worst of western culture, including current society.

Highly recommended as an historical and faith-building read."
From Kris on Goodreads:
Saints and Scoundrels was the best non-fiction book I have read in a long time, and the most enjoyable read for even longer. The book was more about Saints than Scoundrels, by a score of 14 to 5, a ratio I appreciated, While there were a few subjects previously unknown to me (Perpetua, Columbanus, and Gramsci), the rest were familiar names from which I greatly benefited from the brief biography. As biographies go, I am sure these skated the surface of complex lives, yet therein lay the value of the book for me. I don't have the time, neither the patience, to read long biographies. This formula– brief tales of their life, followed by an analysis of their legacy and lessons they hold for us– were ideal for me, and will allow me for better choose what to delve further into. For example, I would really like to read more of Aleksandr Solzhenitsyn. Along the way, I have identified more men I would mark as heroes to me–Alfred the Great, Richard Baxter, Edmund Burke, and Thomas Chalmers to name the top of the list. I have also come to see more clearly the connection between the man and his times, and how each can shape each other.
Cyndi McCallister of Classical Conversations on Amazon reviews:
Robin Phillip's Saints and Scoundrels reveals to us that whether hero or villain, God weaves each life into His story for His glory. Bringing these characters to life, Robin willingly pulls us into not only their lives but into the history and philosophy that influenced their time. Decidedly it presents one of the clearest explanation of the events and philosophies that have affected the church both then and now. Revealing God's providential hand on His people throughout all time, it is one of the most delightful and engaging histories that I have ever read. I found it easy to read and hard to put down. I highly recommend it.
Wilma O. Jones on Amazon Reviews:
Very in-depth and detailed. Robin Phillips really did his homework. If you want to understand more about today's happenings, read this book.
Lynn Joshua on Goodreads:
I read this aloud to my family and we all learned a great deal. Although these are brief biographies, they are not simplistic, but are in-depth and thoughtful. Phillips writes well, gives insightful analysis and relevant application. The discussion questions stimulated us to serious thinking and even debate among ourselves. Highly recommended!
Mathew Sims on Amazon Reviews:
A friend recommended and sent me a copy of Saints and Scoundrels for which I am very thankful. Biography is one of my favorites genres. Phillips didn't disappoint. His writing was approachable for the average reader and engaging for the biography lover. His selection of historical characters was different than you might expect–he not only writes about saints but scoundrels. He examines the lives of Herod, King John, Jean-Jacques Rousseau, & Joseph Smith. He also examines the likes of Richard Baxter, J. S. Bach, William Wilberforce, George MacDonald, Dietrich Bonhoeffer, Dorothy Sayers, and Jim Elliot.

My favorites were Baxter, Bach, Wilberforce, Bonhoeffer, Sayers, Smith, & MacDonald. I was especially intrigued by the background he provided in the chapter on Joseph Smith. He made compelling observations on the condition of Christianity which allowed Joseph Smith's heresy thrive. He says,

It was in New England, and particularly upstate New York, where this revolutionist spirituality attained a pitch of fanaticism unseen in the annals of church history.

The region was termed the "burnt-over district" by Finney to describe an area so heavily subject to revivals that there was no "fuel" left to burn. Not only had everyone been converted, but after experiencing the supernatural power of intense and repeated revivals, the people of the province had become spiritually exhausted and cynical. Consequently, it required more extreme measures to excite their once-combustible spiritual enthusiasm. The "burnt-over district" thus became a breeding ground for an array of cults and spiritual fanatics. By exploiting the climate of cynicism about traditional religion, these fanatics were able to find a ready audience for their revolutionary and utopian schemes. (p. 215)

This concise background information explains so much of the condition of New England today. If burnt out, skeptics doesn't describe the mindset of liberal New Englanders than I don't know what does. The under-handed tactics of "evangelists" didn't produce converts, it hardened the hearts.

Each chapter concisely covers the background, life, and influence of each person. Each chapters ends with a lesson from their life and their legacy and questions about the chapter content. It's not all hagiography for the saints and not all bad for the scoundrels. Everything is covered from a Christian world-view and will help nurture discernment in the young and up-and-coming reader in your family. If you have junior high or high schools who you are trying to entice to read biography Saints and Scoundrels is a book you shouldn't pass up. If you love biography but don't have time to read the official 400 biography for each of these person this book would be a great introduction.
From Tim on Goodreads
This is a book I wanted to keep reading. Each story is engaging and the journey from the first century to the 20th Century is full of surprises since it's not a 'traditional' list of the great saints or scoundrels of church history. For a start it is NOT dominated by pastors & missionaries (though they appear) but it includes politicians, warriors, artists, writers and thinkers. It is America centred – something that obviously affects the latter half of the book more than the first! But that didn't bother me and there was lots of relevance to UK living!

Each chapter is pretty short – so you are directed to particular aspects of each person's story which culminates in some reflection and application of one or more aspect of their life, character or actions. I found this approach stimulating, helpful and obviously relevant. As the blurb on the back says 'the desires and beliefs that drove those characters still drive men today'. I found this to be the case even for those of the line up who I knew about as well as those new to me – which gave me confidence in Robin Phillips' handling of the evidence.

This book is the absolute opposite of the stereotype of a stuffy history book. I'd highly recommend it. It's heartbeat is summarised in the dedication (to his children I presume): Walk in the footsteps of the saints and shun the paths of the scoundrels. Proverbs says: He who walks with wise grows wise … (Proverbs 13:20). Robin Phillips is helping us choose some more friends who will helpfully influence us with the barriers of time & geography overcome for us!

Finally, the book will generate a list in your mind of one or two people you want to know more about and one or two 'issues' you realise you need to think more about. There's a helpful bibliography at the back for each chapter — it will populate your amazon wishlist for a year or two!! The book is also structured with questions at the end of each chapter to help/enable reflection biblically, or culturally or philosophically. I guess these are there especially for use in a (home?) school setting or a book group.
JP on Amazon reviews:
It is so helpful to be reminded of these saints and yes, even these scoundrels. History does repeat itself and we need to read books like this to place current events into perspective. This is the sort of book that needs to be read slowly – one chapter at a time – so it can be fully digested. I especially like the lessons and the discussion questions at the end of each selection. This should be volume 1 of a series. There are so many lessons to be learned from history and its players. JP
M. McGuire on Amazon reviews:
My husband is reading this book out loud to our family and we are loving it. I learned more in the first chapter than I expected to learn in the entire book. I highly recommend this book. Mr. Phillips makes complex people in history accessible and connects many dots for his readers.
Mr. Joseph E. Pearce on Amazon reviews:
This book has been well thought through, Robin Phillips sets a stage for the modern person to appreciate very important scenes in history which will build a basis upon which we can learn who the true heroes were, and those of whom have been given a sometimes falsely glorious past. There can also be a clear distinction between those whom are enemies of civilization, and those who gave their lives for the sake of others.
Leila Bowers on Goodreads:
Here is a skilled historical writer and a wonderful book. I thoroughly enjoyed each chapter, learning much about individuals I had never studied, and new things about others I had. Highly recommended, especially for an initial foray into biography and history.
Further Reading