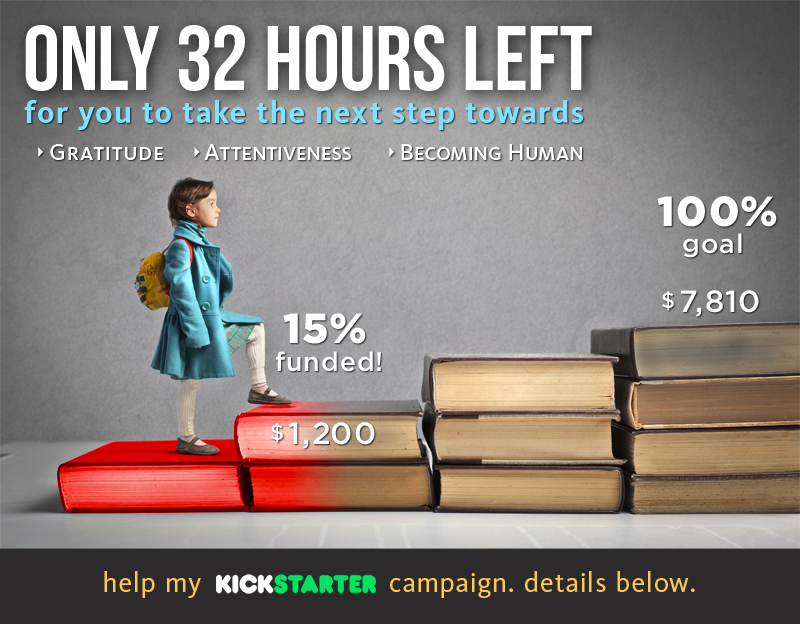 Thank you so much to everyone who has been supporting my Kickstart campaign.
In a message to my mailing list on Monday, I shared how blessed I've been to receive such positive feedback from those who support this project and who have been learning along with me how to be grateful in a time of grumbling, how to be attentive in an era of distraction, and how to be human during an age of machines. I also shared with my mailing list that even if we are unsuccessful in raising the necessary funds, what will not be lost is the warm encouragement all of you have given. You have urged me to keep sharing my message in spite of obstacles, discouragement and opposition.
As we approach the final hours of this fund-raiser, I need your helping in making one last-ditch effort to publicize this campaign to a wider audience. Many new people are often incentivized to support a project like this in the final hours. Here are two things I am asking you to do:
Send an email to your friends telling them about this project and directing them HERE where they can pledge various amounts. You might consider sharing THIS list of topics I plan to cover in the book.
Share my recent Facebook post about this project and say a few words about why you would like this book to be written. Encourage your friends to share the post.
Thank you again for your support!
Further Reading