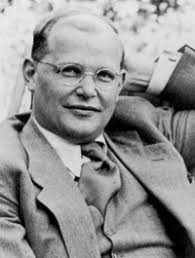 On July 21, 1944, Dietrich Bonhoeffer (1906-1945) was in the sick bay of the Tegel prison listening to the Nazi radio.
The Lutheran minister had been sent to prison the year before after the Gestapo discovered a financial irregularity stemming from an operation smuggling Jews into Switzerland. Though a prisoner of the Third Reich, Bonhoeffer knew he was safe as long as the Nazis did not discover the full extent of his seditious activities. He also knew that long-laid plans to assassinate Adolf Hitler were about to come to fruition. Any day he hoped to receive word that Hitler had been killed.
The hope of assassinating Hitler went beyond merely wanting to end the war. The world needed to see that there was more to Germany that the Nazis, and that there were thousands of Germans who were appalled by Hitler's atrocities. Careful plans had been laid for an alternative government that would be ready immediately to assume power and negotiate a peace settlement with the allies. Through this plan, the conspirators hoped to avoid the inevitable destruction that would accompany an allied invasion. Bonhoeffer played an important role in these plans. While pretending to work and travel on behalf of the German military intelligence organization known as the Abwehr, Bonhoeffer had actually been reaching out to the British government on behalf of the conspirators. When traveling to neutral Sweden on behalf of the Abwehr on June 1 1942, he met with his close friend Bishop George Bell, who was the Bishop of Chichester and a member of the House of Lords. Through Bell, Bonhoeffer relayed detailed information to the British government about the conspiracy, hoping to get Britain's support for the conspiracy and even to begin negotiating, in advance, about the terms of peace. But their overtures were rejected: the war-weary Brits had no interest in helping the German resistance or in any arrangement other than unconditional surrender. Still, the conspirators pressed on.
At the time of the July 20 plot, all the Nazis had managed to find out about the prisoner Bonhoeffer was that he had conspired to rescue Jews, and that he had used his role in the Abwehr to advance the pastoral agendas of his church. But on July 21st, as Bonhoeffer listened to the prison radio, his heart must have sank as he realized the game was up. Hitler had survived an assassination plot of the previous day. Colonel Claus von Stauffenberg, a Roman Catholic and a secret opponent of the Führer, had successfully deployed a bomb in a conference meeting at Hitler's East Prussian headquarters. The bomb, which had been smuggled into the meeting in briefcase, exploded as planned shortly after the Colonel quietly excused himself from the room. Even though four people were killed by the blast, Hitler himself received only minor bruising.
No doubt this news hit Bonhoeffer like a blow. Not only did it mean that the war would now be drawn out to its destructive finale, but it virtually guaranteed that Bonhoeffer's own involvement in the resistance would be discovered. As the conspirators were rounded up and tortured, it was only a matter of time before the trail of information would lead back to him.
The implications of the failed plot must have landed on him with the force of a death sentence. It would now only be a matter of time before all the conspirators were discovered, rounded up and executed.
The same day he learned this devastating news, Bonhoeffer grounded himself in God's promises, taking comfort from verses he had read in the previous day's devotions. These verses included Psalm 20:7 ("Some trust in chariots, and some in horses; but we will remember the name of the Lord our God"), Romans 8:31 ("If God is for us, who can be against us?") and Psalm 23:1 ("The Lord is my shepherd; I shall not want."). In a letter written later that day to a former student, Eberhard Bethge, Bonhoeffer reflected on the need of "living unreservedly in life's duties, problems, successes and failures, experiences and perplexities." He added that "In so doing we throw ourselves completely into the arms of God, taking seriously not our own sufferings, but those of God in the world—watching with Christ in Gethsemane."
"He knew the ramifications" commented Eric Metaxas in his biography of Bonhoeffer. "But he would not take his emotional cues from circumstances. His equanimity amidst this fiasco is evidenced in his letter to Bethge." Before closing his letter to Bethge, Bonhoeffer penned these remarkable words: "I'm grateful for the past and present, and content with them…"
Gratefulness is a theme that pervaded Bonhoeffer's days in prison. Though he had much to be anxious about, including the safety and health of his fiancé Maria, he never ceased to overflow with a childlike sense of thanksgiving and contentment. Facing the daily possibility of death, he regarded each day as a gift from the Lord to be received with thankfulness and joy.
"I think we honor God more", Bonhoeffer wrote, "if we gratefully accept the life that he gives us with all its blessings, loving it and drinking it to the full." Elsewhere he reflected that "gratitude changes the pangs of memory into a tranquil joy."
What was remarkable about Bonhoeffer's gratitude was not simply that he refrained from complaining, nor was he even joyful in spite of hardships. Rather, he remained grateful for the suffering itself. This is because he maintained that difficult circumstances, no less than pleasant ones, come from the hand of God and can therefore be greeted with gratitude and joy. He expressed this in a letter written to Maria, quoting Stifter's words that "Pain is a holy angel, who shows treasures to men which otherwise remain forever hidden; through him men have become greater than through all the joys of the world." Bonhoeffer returned to this theme in a letter he sent his brother-in-law where he urged gratitude for life's joys as well as life's hardships:
…we have been able to enjoy so many good things together that it would be almost presumptuous were we not also ready to accept hardship quietly, bravely—and also really gratefully.
On  October 8, 1944, Bonhoeffer was transferred to a Gestapo prison, where he was kept in a dark underground cell that was eight by five feet. Here Bonhoeffer was forced to cease contact with Maria and his family and threatened with torture. Despite these challenges, he continued to radiate a profound sense of contentment. One English officer who was imprisoned with Bonhoeffer during this period commented, "Bonhoeffer always seemed to me to spread an atmosphere of happiness and joy over the least incident and profound gratitude for the mere fact that he was alive." A fellow conspirator and prisoner, Fabian von Schlabrendorff, added that "He always cheered me up and comforted me, he never tired of repeating that the only fight which is lost is that which we give up."
During Christmas 1944, Bonhoeffer was allowed to write to Maria again. In this letter that he wrote, "Anyway, what do happiness and unhappiness mean? They depend so little on circumstances and so much more on what goes on inside us."
Three weeks before taking his own life, Hitler personally ordered Bonhoeffer's death. A poem Bonhoeffer wrote in prison shortly before he was hung on April 9 1945, reveals that he never lost his attitude of courageous gratitude:
And shouldst thou offer us the bitter cup, resembling
sorrow, filled to the brim and overflowing,

we will receive it thankfully, without trembling,

from thy hand, so good and ever-loving.

The Bonhoeffer Challenge
Bonhoeffer's example challenges us to assess our own reactions to difficult circumstances.
When Bonhoeffer knew that his days were numbered, he accepted each day as a gift, "loving it and drinking it to the full." How would your life be difference if you received each day, each hour and each moment as a precious gift from God?
After hearing the disappointing news of the failed assassination attempt, Bonhoeffer turned to God's Word for comfort and hope. When you are disappointed or have received bad news, do you first of all turn to God for comfort?
Bonhoeffer believed that hardships should be accepted "quietly, bravely—and also really gratefully." How might your life be different if you responded to hardship with quietness, bravery and gratefulness?
Bonhoeffer believed that the only fight that is lost is the one we give up fighting. Even at his death, he refused to give up. How could this attitude be applied against struggles you might be facing with illness, difficult relationships or temptation?